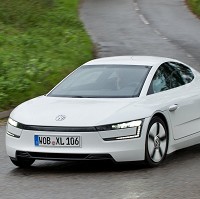 Volkswagen has slapped a whopping £98,515 price tag on its vision of the car of the future, the XL1.
The first German customer has already taken delivery of one of the 200 models which the manufacturer intends to build. Some of these will be heading to the UK.
No other car can compete with the XL1's unique aerodynamic qualities. It is capable of doing 313mpg, emitting just 21g/km of CO2 with its 800cc twin-cylinder diesel engine.
In perfect conditions, the XL1 uses just 8.3bhp to drive at 62mph, while the engine produces 47bhp and the electric motor another 27bhp.
It also features a dual-clutch automatic gearbox with seven speeds.
Drivers of the XL1 will not be able to use wing mirrors to check what's going on around them, as there aren't any. These have been replaced by cameras and in-cabin displays.
This helps the aero-dynamism of the XL1 achieve a drag coefficient of 0.189. A VW Golf is considered to be fairly aerodynamic, but it can only manage 0.27.
Volkswagen Product Manager Lianne McKnight can't wait to see the XL1 gracing Britain's roads and she expects many of its ground-breaking aerodynamic touches to be used in the marque's future offerings.
She said Volkswagen is investing in the future and the XL1 could well be the kind of car people will be driving as standard in 15 years' time.
Copyright Press Association 2014