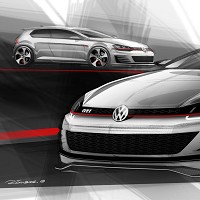 Motoring enthusiasts at the annual Woerthersee festival are getting the first glimpse of Volkswagen's stunning new 503-horsepower Golf concept.
Anyone aiming to join the 150,000-strong crowd in Austria should set theirjourney planner for Reifnitz - but hurry.
This year's event, offering the first chance to see the Golf Design Vision GTI up close, ends on May 11.
The mark VII Golf's ultra-versatile MQB chassis architecture is coupled with shortened overhangs, a 57mm lower roof and much wider track (579mm at the back and 1,595 at the front). And an in-built infotainment system features an on-board camera which can be inked to social networks.
Marking a conceptual return to V6-powered Golfs, its front-mounted turbocharged 3.0-litre unit pushes out 503 metric horsepower.
Thought to be the fastest Golf thanks to a DSG twin-clutch gearbox which sends power to all four wheels - it shifts from 0-62mph in a supercar-rivalling 3.9 seconds.
Volkswagen says the car is designed to handle "the most demanding of race tracks" and, while top speed data is not available, it would be limited only by aerodynamics.
Copyright Press Association 2013