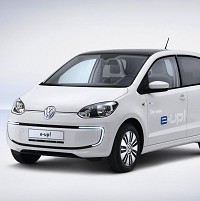 German car manufacturer Volkswagen has announced an all electric model called the E-Up.
The E-Up has an electric motor offering up to 81bhp and 155lb.ft of toque. I can reach 62mph from a standing start in 14 seconds, which the makers say is as good as standard petrol-powered engines.
The car has a range of 93 miles on a single charge and there is the option for charging with either DC or AC power supplies. The port for the electric socket is under the fuel filler cap.
The E-Up has striking curved LED daytime running lights in the front bumper, while there are aerodynamic tweaks to improve efficiency.
The car, which will debut at the Frankfurt Motor Show in September, will be available for UK customers from early 2014.
Copyright Press Association 2013