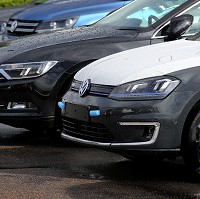 Volkswagen plans to start recalling diesel cars fitted with emissions test-rigging devices in the new year.
New chief executive Matthias Mueller says the first repairs could take place in January, if everything goes to plan.
He hopes all affected cars - around 11 million worldwide, including 1.2 million in the UK - will be fixed by the end of 2016.
VW must submit its timetable to correct the defeat device software to German authorities this week.
While some of the cars can be fixed by adjusting the software, others will need mechanical alterations. The repairs will be free for customers.
Mr Mueller, who replaced Martin Winterkorn at the scandal-hit carmaker, says the company will recover from the crisis but admits it will not happen without pain. He adds it will have to review planned investments and contain costs as a result of the large fines it faces and lost sales around the world.
US environmental regulators discovered VW had installed software that disabled pollution controls when the vehicle was not being tested. Affected cars produced nitrogen oxide pollutants at up to 40 times the legal standard.
Copyright Press Association 2015