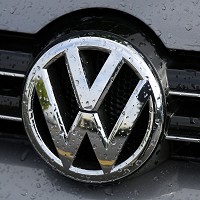 Volkswagen will recall 8.5 million vehicles across Europe in the wake of the diesel emissions scandal, it has been announced.
The Federal Motor Transport Authority (KBA) in Germany has ordered the recall, which will take in close to 1.2 million vehicles in the UK.
VW welcomed the "swift" decision in a statement on its website, saying it gives customers clarity with regard to the continued unrestricted use of the vehicles.
The company's UK managing director Paul Willis has promised to "do the right thing" and "fully resolve" the issues after cars were fitted with manipulation software to cheat environment tests in the US.
But he has refused to say whether owners of the affected vehicles will be awarded compensation. He said it would be "premature" to discuss payouts.
Yet nine out of 10 VW drivers in the UK whose vehicles may be caught up in the scandal believe they should receive compensation, according to the findings of a new study.
Mr Willis, speaking at the Commons environmental audit committee, added VW "really wants to put things right". Recalls in the UK are due to start in the first quarter of next year, with affected customers to be contacted directly.
Copyright Press Association 2015