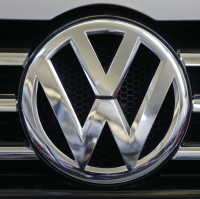 Drivers in the US affected by the Volkswagen emissions scandal are to be offered compensation and the chance to have their car bought back.
The deal in principle reached on Thursday will be followed by details of a final settlement package, which is set to be confirmed in June.
Observers are now speculating that the US deal could have an impact on whether motorists in Europe are offered similar settlement terms.
Analyst Marc-Rene Tonn, at Warburg Research, said that a big pay-out to US customers might encourage drivers elsewhere to seek something similar.
Speaking at a court in California, district judge Charles Breyer said that around 500,000 2.0-litre vehicles could be applicable for the buy-back deal.
And while no details of the compensation agreement were revealed, the judge said the final amount could be "substantial".
VW could also have to pay into an environment fund and carry out work to promote green technology.
It follows last year's emissions scandal, which saw the German manufacturer admit that many of its cars were fitted software designed to affect emissions tests.
Copyright Press Association 2016. Motoring News articles do not reflect the RAC's views unless clearly stated.