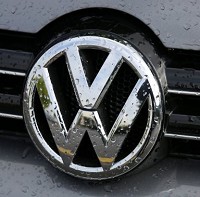 Scandal-hit Volkswagen has removed 4,000 diesel vehicles from sale.
This follows its admission it deliberately rigged clean-air emissions tests to fool testers into thinking some cars are less harmful than they are.
The German giant has already pledged to re-fit the estimated 11 million vehicles it admits are caught up in the global scandal .
The thousands of vehicles being voluntarily withdrawn are believed to have the fraudulent software installed. All have EA 189 engines.
A company spokesman says that about 4,000 models have been hit across the Skoda, Seat, Audi and VW range - or about one in 33 of its new car stock.
VW intends to contact 1.2 million UK motorists who own one of their cars to correct the vehicles.
The scandal was unearthed when the US-based Environmental Protection Agency found that 482,000 Volkswagen machines had intricate defeat device equipment installed.
This tricks emissions tests by altering engines to cleaner modes while they are being subjected to official testing.
The Agency found that these vehicles emit harmful nitrogen oxide emissions a maximum of 40 times above the legal limit when in real-life driving mode.
Copyright Press Association 2015