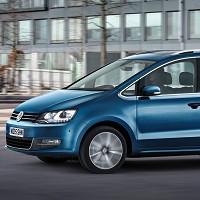 A leading German motor manufacturer has given its multiple-purpose vehicle (MPV) a makeover to celebrate its 20th birthday.
The revamped Volkswagen Sharan is due to hit UK showrooms this autumn. The people carrier's first edition was launched in 1995 with today's version hitting the streets during November 2010.
The entry market price for October's latest version is £26,300. Its top-of-the-range model with mod-cons will set motorists back £36,280. VW has already starting taking bookings for the refreshed seven-seater favourite.
Motorists buying a car from VW Sharan dealerships this autumn will notice a whole host of improvements.
Its new raft of engines, for example, all hit the EU6's requirements. They are also a maximum of 15% more fuel efficient than the current models.
Owners will be offered a selection of four engines to choose from. These comprise three diesel varieties and a petrol one. They range in oomph between 115 and 184 horsepower.
The multiple options don't stop when it comes to gearbox selection. Drivers can, depending on the engine they decide upon, enjoy six-speed gearboxes in manual or DSG alternatives.
The latest Sharan's interiors get the makeover treatment too. New upholsteries, steering wheels and infotainment network with second-gen colour touchscreen all come in as standard.
So too are Bluetooth phone link, three-zone air-con and Automatic Post-Collision Braking System.
Some old favourites remain. These include sliding doors on the side and the revolutionary seating concept called "EasyFold" which was introduced in the current edition five years ago.
Top Gear, in a mixed review, pointed to the current Sharan's usefulness for quietly ferrying lots of passengers about. Its overall verdict was a solid seven marks out of 10.
Telegraph Motoring greeted its present model's launch in 2010 by saying that it "oozes quality" while never being the most exciting vehicle to look at. The newspaper's Andrew English noted that the cabin's feel was "huge" and also praised its handling, adding that the ride exuded a sense of "security" and "solidity". Mr English also pointed to its strong brakes, fine pedal progression and "nice" steering.
Copyright Press Association 2015