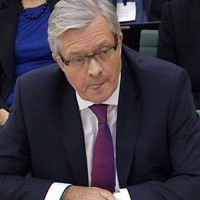 Software that cheated emissions tests in the USA does not break European regulations, Volkswagen's UK managing director has told MPs.
Paul Willis's comment has left members of the Commons' Transport Select Committee accusing him of using "legal jargon" to insist that the software should not be classed as a defeat device in the UK and Europe.
Last autumn the VW Group admitted that nearly half a million of its diesel vehicles in the US were fitted with software that switched their engines to a cleaner mode when they were undergoing emissions testing.
The manufacturer says around the world about 11 million vehicles are fitted with the software. In the UK nearly 1.2 million vehicles - including around 588,000 VW cars and commercial vehicles, 393,000 Audis, 77,000 Seats and 132,000 Skodas - are affected.
But Mr Willis has told MPs that as it is not part of the emission control system, the software is not a defeat device on this side of the Atlantic and is so still compliant with European regulations.
Copyright Press Association 2016. Motoring News articles do not reflect the RAC's views unless clearly stated.