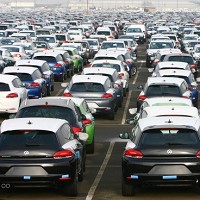 Volkswagen cars provide the most satisfaction for their drivers, according to a new survey.
The customer satisfaction table compiled by What Car? and marketing company JD Power reflects extremely well on the Volkswagen Group and German car manufacturers in general, with seven of the top 10 vehicles hailing from the European powerhouse.
Volkswagen's Up hatchback took first place in the poll, which surveyed over 15,000 motorists.
Its Golf Plus came in second, followed by the Yeti made by Skoda, which is part of the Volkswagen Group.
The Mercedes-Benz C-Class came fourth, followed by the VW Scirocco and the VW Tiguan in sixth place.
In total some 109 vehicles formed part of the survey, with the Chevrolet Spark, Alfa Romeo Mito and Citroen C3 among the worst performing.
All of the models involved in the survey were registered between January 2011 and December 2012, with owners questioned over issues such as their vehicle's overall appeal, running costs, and dealer service quality.
What Car? editor Jim Holder singled out the Volkswagen Group for special congratulations. He said cars which do well in such surveys are generally good recommendations for car buyers and often correlate with a car's build quality.
In an alternative league table taking into account how manufacturers, rather than models performed, Jaguar and Lexus came joint top, followed by Mercedes-Benz third, Skoda fourth and Volkswagen in fifth.
Copyright Press Association 2014