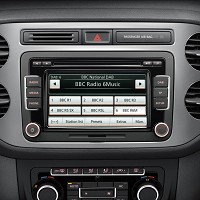 German car giant Volkswagen (VW) is set to roll out DAB digital radio on almost all of its models, according to reports.
Senior VW staff have promised that from next year all but one model will have the hi-tech radio kit, which allows crystal clear radio reception and a huge number of stations not available to analogue listeners.
With the entry level Up city car the only model missing out, a breakdown of the standard specification lists for every other VW car shows a wide range of top-end audio equipment, including MP3 player connectivity, six-speaker minimum sound systems and CD players.
But while the standard specification list is set for an upgrade, optional extras will still be available to fine-tune cars' audio equipment.
Bluetooth mobile technology is still likely to be a paid-for extra on most cars, while plug-ins that incorporate MP3 player control into a car's dials are also likely to come at a premium.
For those who refuse to settle for anything other than the best, some models of the VW Beetle will come equipped with audio by iconic guitar brand Fender.
Copyright Press Association 2012