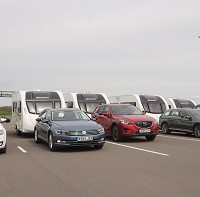 If you're planning a caravan holiday this summer then Volkswagen's latest Passat Estate 2.0 is the car to get you there, the results of the 2015 Tow Car Awards suggest.
The car towed off the event's top award for a record third time with versions of the vehicle also taking the honours in the 1,400-1,549kg and 1,700-1,899kg categories.
The Land Rover Discovery 3.0, meanwhile, made it eight wins in the last nine years in the heaviest - 1,900kg plus - weight category.
The awards were made by a panel of judges drawn from What Car?, The Camping and Caravanning Club and Practical Caravan magazine.
Vehicles were tested on their stability as well as their ability to handle hill starts, emergency stops and lane changes.
A Green Award was given to the Volvo V40 Cross Country with the Ford Mondeo 1.5T EcoBoost named Best Petrol Tow Car.
The Citroen CT Cactus, meanwhile, was named Best Ultralight Tow Car.
The Skoda Octavia Hatch 2.0 and Mazda CX-5 2.2D won awards in the under 1,400kg and 1,550-1,699kg weight categories respectively.
Copyright Press Association 2015