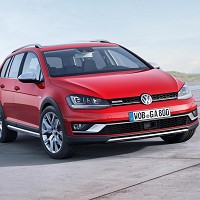 Volkswagen's new all-wheel drive Golf Alltrack is booked in for its first public appearance at the Paris Motor Show.
To complement the Passat Alltrack, the new model's features also include body protection on the outside with plastic mouldings on the front, side and rear, and a slightly raised ride height (an extra 20mm) due to revised suspension settings.
In addition, its aluminium accents give the impression of skid plates on the front and back.
Three diesel engines (110 - 184 horsepower) and a TSI petrol engine (180hp) power the vehicle which should be in UK showrooms from next summer, although prices are not yet available and are due to be announced nearer the launch date.
VW's usual 4Motion all-wheel drive system now includes electronics to boost distribution of power. This involves the use of a Haldex centre coupling to shift power to the back axle when the front wheels slip.
The car giant claims the clutch can even send all of the drive to the back wheels in an emergency.
EDS and XDS are the electronic systems which utilise sensors and brakes to reduce wheelspin.
Bespoke features include 17in alloy wheels and honeycomb-styled radiator grilles.
The 2015 Golf Alltrack boasts four engines for customers - the 1.9-litre TSE petrol (178bhp), the 1.6-litre TDI diesel, the 2.0-litre TDI diesel (148bhp), and the 2.0-litre TDI diesel (182bhp).
Copyright Press Association 2014