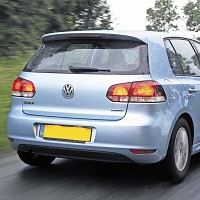 A new aftermarket engine remapping tool that can add up to 40bhp has been made available for one of the least powerful current Volkswagen diesel cars.
Superchips, a Buckingham-based company, said it had developed the remap for the 1.6-litre TDI Golf.
Following a number of tests, Superchips said it had improved the performance of the engine from 108bhp and 175lb.ft to 148bhp and 226lb.ft.
According to the firm, the best results can be seen between 2,000rpm and 4,500rpm, with the peak improvement at around 2,350rpm and maximum power being achieved at 4,000bhp.
Although no on-road testing has yet been carried out with the remap fitted, Superchips said that the vehicle was keener to pull away at all speeds, and motorists would be able to enjoy greater driving flexibility and fewer gear changes.
In summing up the impact of the remap, the company said the VW Golf drove "more like a GTi than a TDI".
Anyone interested in using the engine remap should contact their car insurance providers.
Copyright Press Association 2012