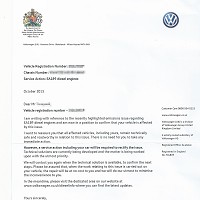 Volkswagen owners in the UK have begun receiving letters notifying them that their vehicles are caught up in the emissions scandal.
From company director Alex Smith, they confirm service action is required to rectify the issue. But the letters add the vehicle is roadworthy, so there is no need for immediate action.
VW is currently in the process of developing technical solutions after admitting 11 million of its vehicles around the world are fitted with software which was used to cheat environmental tests in the US.
Mr Smith said the matter is being worked on with the utmost priority. There is no definitive date for when the affected vehicles will be recalled, although it is expected to be in the new year at the earliest.
The German automaker hopes to complete all of the necessary work by the end of 2016. It has also confirmed it will switch to new diesel emissions technology in Europe and North America following the scandal.
But VW's UK boss, Paul Willis, has admitted there is a chance that the target of doing all the work by the end of next year could be missed
He explained to the Commons transport committee that 400,000 vehicles would need changes to their fuel injection systems in addition to having the manipulation software removed.
Copyright Press Association 2015