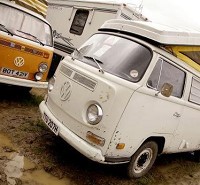 Volkswagen's much-loved camper van was the centre of world-wide attention at the Three Counties Showground in Malvern, Worcestershire, over the weekend.
This year's festival attracted thousands of the iconic VWs, favoured for decades by hippies and celebrities such as 'naked chef' Jamie Oliver.
The first Vanfest was held in 1994, and this year the event included musical entertainment headlined by bands including The Commitments and The Brian Collins Band.
The popular cooking-in-a-camper contest, in which one person must prepare and cook a three-course meal for two in just one hour, again proved a firm favourite.
Displays including the Well-Travelled Transporters, featuring talks from campers who had taken their vans on expeditions around the world.
Copyright © Press Association 2009