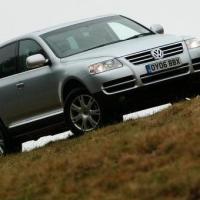 Tens of thousands of motorists are to have their cars recalled by Volkswagen because of a potential foot pedal problem, it has been announced.
Worldwide more than 390,000 VW Touaregs made between 2011 and this year are being recalled. In addition the manufacturer is recalling 410,000 Porsche Cayennes built during the same period.
Volkswagen has not yet revealed how many UK motorists are affected by the recall of the SUV vehicles.
It says the recall has been prompted because of a "possible loosening of a retaining ring" on the bearing block of the cars' pedal system.
VW says motorists will be contacted directly and asked to bring their vehicles to a service centre to have them checked.
It says the recall is a "purely precautionary" measure and stresses that there have been no reports of any accidents or injuries.
Earlier this week VW announced that 177,000 new Passat cars are to be recalled in Europe over concerns about a potential electrical fault.
The manufacturer has also set aside billions of pounds to deal with the aftermath of the emissions testing crisis.
In the UK new Touaregs are marketed for over £40,000 while motorists pay between £50,000 and £120,000 for the Porsche Cayenne.
Copyright Press Association 2016. Motoring News articles do not reflect the RAC's views unless clearly stated.