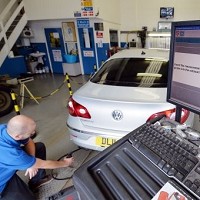 Technical fixes for most of the cars affected by the continuing emissions scandal have been announced by Volkswagen.
The remedies have been put in the hands of the KBA - Germany's federal motor transport authority - which must approve them before they can be implemented by the car maker.
VW says once the measures have been implemented vehicles with their 1.6-litre and 2.0-litre EA189 diesel engines will comply with emissions standards.
The fixes will involve the removal of software - designed to cheat emissions tests - from the vehicles' engines.
The German manufacturer says the repair for 1.6-litre engines should take less than an hour to carry out, while the 2.0-litre engine fix is set to take under 30 minutes.
It says the aim is to enable vehicles to achieve emissions targets without hampering performance, fuel consumption or engine output.
VW is planning to present a fix for 1.2-litre engines to the KBA within the next few days.
And it says sister brands Audi, Skoda, VW Commercial Vehicles and Seat are drawing up similar measures for vehicles which are affected.
Copyright Press Association 2015. Motoring News articles do not reflect the RAC's views unless clearly stated.