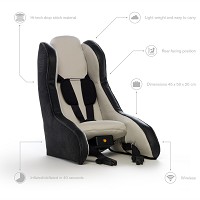 Volvo has designed an inflatable car seat for children, exactly half a century after it introduced the first ever rear-facing seat to the market.
The new seat is half as heavy as a standard one and inflates in just 40 seconds using an integrated pump. The air can be let out quickly, so it takes up less space than regular seats.
The Inflatable Child Seat Concept is a rear-facing model and recommended for use with children up to four years of age. It uses easy-to-clean and hard-wearing materials that were made originally for aircraft and boats.
Volvo Design Manager Lawrence Abele said although it would be safer for all passengers to face the rear it isn't possible due to the way modern cars are made.
Volvo advises that young children should face the rear whenever possible and wants to make its child car seats as safe and as well-designed as possible.
Copyright Press Association 2014