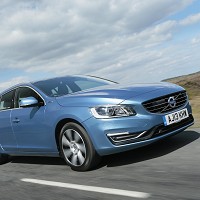 Volvo has teamed up with British Gas to help ensure customers' homes are ready to charge the world's first plug-in diesel hybrid vehicle.
The announcement comes as delivery of the Volvo V60 D6 AWD begins in the UK.
Customers who buy the new model will qualify for a free car charging package from British Gas. This includes a charge point and free access to the Polar Charging network throughout the UK.
The offer is available until March 2015.
It should encourage the switch towards greener cars by reducing the chance ofbreakdowns through lack of charge.
Upgrades to the Volvo V60 for Model Year 2014 feature a revamped front with a new bumper including:
- new day-running lights and grille
- a re-profiled bonnet with hidden washer jets
- front wings and headlights.
The V60 D6 AWD enables motorists to pick their driving mode via three buttons in the dashboard that gives the car three different temperaments: Pure, Hybrid or Power.
Carbon dioxide emissions are only 48g/km in the default hybrid mode.
Drivers can, at the touch of a button, cover up to 31 miles on pure electric power. They can combine the diesel engine and electric motor to gain extra power.
Copyright © Press Association 2013