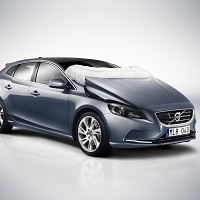 The new Volvo V40 could be one of the safest cars on the market, after becoming one of five models to score the maximum result in the EuroNCAP safety tests.
The vehicle received a pedestrian protection rating of 88% - the highest score awarded within the category.
Four other vehicles also awarded a five star rating in the assessment were the Audi A3, Ford B-Max, Kia C'eed and Renault Clio.
The Volvo V40's distinguishing safety feature is its pedestrian airbag.
Collision safety has become paramount over recent years as drivers seek to maintain lowcar insurance premiums and manufacturers adjust to stricter Euopean regulations.
Michiel van Ratingen, EuroNCAP secretary general, said he was impressed with the efforts made by car manufacturers to increase pedestrian safety:
He said: "In Europe, 14% of all road traffic fatalities are pedestrians.
"While in the last three years EuroNCAP has increased the requirements, the vehicle manufacturers have stepped up to the challenge."
Copyright Press Association 2012