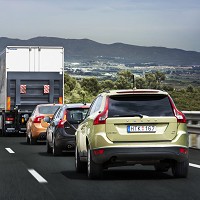 Volvo has announced it is to try and develop a range of self-driving vehicles in a bid to produce the safest cars in the world, according to reports.
Autonomous driving could potentially enable motorists to undertake another task while behind the wheel, such as sending a text message or reading a book, as the vehicle drives itself.
While that may seem a long way off at the moment, Volvo is working on autonomous techniques to deal with slow-moving traffic and motorway road trains, which could eventually makecar insurance much cheaper.
Volvo's Marcus Rothoff said: "Our aim is to gain leadership in the field of autonomous driving by moving beyond concepts and pioneering technologies that will reach the customers.
"Making these features reliable enough to use on public roads is crucial to boosting customer confidence in self-driving cars.
"Hardly anyone thinks twice about being in an airplane that flies on autopilot. But being in a car that drives by itself while the driver reads a book is still quite a revolutionary thought for many people."
Copyright Press Association 2012