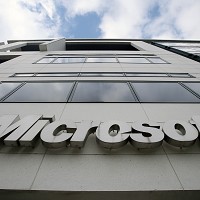 Volvo and Microsoft are teaming up to develop the self-driving car of the future.
The firms will combine their expertise over the coming years to change the way people get from A to B.
Swedish manufacturer Volvo has previously spoken of its desire to have zero deaths or injuries in its cars by 2020 and it believes self-driving technology will be key to this.
Meanwhile, tech giant Microsoft is interested in the possibility of efficient remote working when commuting or travelling long distances by road.
How information gathered by cars and their drivers can be used to enhance the driving experience is another possible area of cooperation, as is the possibility of using predictive analytics to improve safety.
Apple, Microsoft's biggest rival, recently introduced its own in-car connectivity software, CarPlay, which is designed to make it easy for drivers to access their iPhone apps on the move.
But the tie-up between Volvo and Microsoft promises to go much further than enhancing apps access.
Klas Bendrik, senior vice president and chief information officer at Volvo, says technology will pave the way for a more sustainable and crash-free future, while also bringing benefits for customers and wider society.
Motoring News articles do not reflect the RAC's views unless clearly stated.
Copyright Press Association 2015