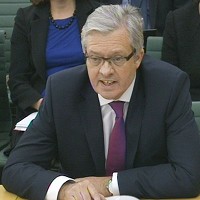 Volkswagen's UK boss Paul Willis has apologised "sincerely and unreservedly" to customers over the diesel emissions scandal.
But during a grilling by MPs, he also defended the speed of his actions in stopping the sale of cars affected by the test-cheating software.
More than 1,000 vehicles fitted with the suspect software were sold in this country after it emerged the UK was also affected by the issue, which first came to light in the US.
Mr Willis told the Commons transport committee he halted sales within hours of confirming which models were affected, insisting he could not have acted any faster.
He said he could not stop selling cars if he did not know which were affected, pointing out that he received the details on September 30.
This was eight days after it emerged Europe was affected and two days after he told the Government sales would stop when they could.
"There are 60 different models, there are five different brands, there are three different engines and two different transmissions," he added.
"I found the VIN numbers out precisely at 9am and at 1.30pm. Once I had clarified it with the computer systems, I stopped selling the cars voluntarily."
German carmaker Volkswagen has revealed that 11 million of its vehicles worldwide are fitted with software used to cheat pollution tests.
In the UK, nearly 1.2 million vehicles are said to be affected. Cars will start to be recalled in the first quarter of next year for remedial work to be carried out.
UK managing director Mr Willis admitted that a target of completing all the work by the end of next year risks being missed.
Some 400,000 vehicles will need alterations to their fuel injection systems as well as having the software removed, but engineers are under orders to ensure fuel efficiency of the cars involved is not reduced, Mr Willis insisted.
It is hoped future testing procedures will be more rigorous and closely inspected.
RAC chief engineer David Bizley said: "A stronger laboratory test, which will for the first time be more representative of real-world driving conditions, is due to be implemented in Europe in 2017.
"The pressure on this to be truly fit for purpose, and to more closely resemble what a driver might encounter when driving, is now immense. In whatever form it ends up taking, the new test regime will be subject to intense scrutiny from governments and motorists themselves."
Copyright Press Association 2015