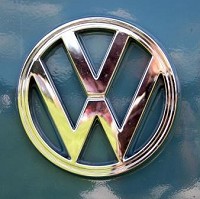 Electric compact car E-Up will be among the new Volkswagen models on display at the Frankfurt Auto Show this week.
The German carmaker said E-Up would be likely to start production in 2013 and would not reach similar levels to other compacts until 2020.
At a reception on Monday, Volkswagen said the car would drive about 80 miles or 130 kilometres on an 18 kilowatt lithium ion battery.
Volkswagen chief executive Martin Winterkorn said: "One of the basic milestones on this timeline is the mass produced electric car."
He said a perceptible reduction of cars' environmental impact would only been seen when large numbers of electronic vehicles are used on all the continents. Once that happens, Mr Winkerkorn said one could truly speak of the beginning of the electric age in automobiles.
"The concept car now being presented in Frankfurt very realistically shows how we envision such a Volkswagen with pure electric drive - technically, visually and with regard to a practical size," said Mr Winterkorn.
Volkswagen will also reveal other new models, including more with its Blue Motion technology and new hybrid technology.
Copyright © Press Association 2009