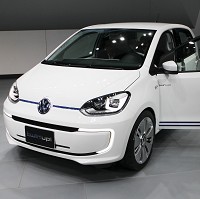 Volkswagen has created a high-tech version of its Up! city car, which manages 256.8mpg.
In part, the Twin-Up! replicates the design of the car maker's XL1 model but the running gear has been tweaked to give the new car a larger diesel fuel tank and battery, as well as an updated electric motor.
The XL1's diesel-electric hybrid powertrain has also been modified to give Twin-Up! a 31-mile range using electricity only.
The city car has some extra weight which comes as a result of the revisions, Volkswagen says.
Other aspects are the same as the XL1, such as the 800cc engine, a seven-speed gearbox featuring dual clutch and a total output of 75 horsepower.
Twin-Up! also does well in terms of pollution emitted, with 27g of CO2 per km.
It is described as another concept car but the same was said about the XL1 which is now on the production line, albeit in a limited way.
Copyright © Press Association 2013