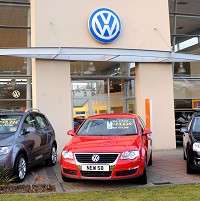 A car dealership in Suffolk is planning to double in size on the back of a £1 million investment.
Northgate Volkswagen in Bury St Edmunds will remain open while it undergoes a major overhaul, with work due to be completed in July 2013, brand manager Robert Rolfe said.
The revamp will allow a far greater number of cars to be exhibited, while the site's facilities and services will be improved.
The extended showroom will display up to ten different models as well as making space for an improved hospitality and servicing area.
The spacious new interior is intended to be a "light and airy" space, featuring clean cut lines and crisp colours to enhance the consumer experience.
"For the past 35 years we have successfully built a strong Volkswagen business from this site," Mr Rolfe said.
"We continually review our services and facilities to ensure we provide a high level of service, so felt the time was right to expand our offering."
Copyright Press Association 2013