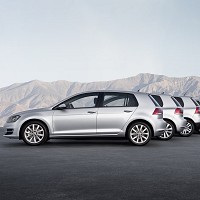 After almost 40 years of production the 30 millionth Volkswagen Golf has been driven out of the manufacturer's Wolfsburg plant in Germany.
Production of the iconic Golf began in 1974 with the Volkswagen now manufacturing the seventh generation of its popular family-sized car.
The milestone 30 millionth Golf is a Bluemotion TDI. Motoring enthusiasts travelling by road to Germany to see it on show at the huge plant's open day will have been well advised to haveEuropean breakdown cover .
The Bluemotion TDI is the most fuel-efficient Golf ever made with an official combined consumption figure of 88.3mpg.
Professor Martin Winterkorn, chairman of Volkswagen AG's management board, said a history of automotive progress is synonymous with the model.
He said previous generations of the Golf had helped take automotive developments such as safe front-wheel drive, Electronic Stability Control and the dual clutch gearbox to the mass market.
He added: "An optimum of safety, comfort and driving fun are no longer a question of money thanks to the Golf."
Copyright Press Association 2013