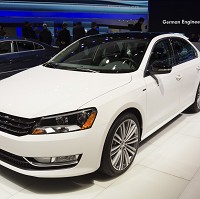 Volkswagen is suspending sales of four diesel models in the wake of the emissions testing scandal.
It means that motorists will not be able to get hold of the 2016 Jetta, Golf, Passat or Beetle in the US.
VW has removed its US emissions certificate requests on all four machines.
Thousands of Volkswagen diesel vehicles have been left stranded at ports across the country, meaning showrooms have no new VW diesel cars to sell.
The German motor manufacturer's announcement has raised speculation that emissions-cheating devices have been fitted to its new cars as well as earlier models.
VW owned up to fitting so-called defeat devices on its four-cylinder diesel vehicles over a six-year period in a scandal involving some 11 million cars.
The application to withdraw the four diesel vehicles was submitted by Volkswagen of America chief executive Michael Horn to a US House of Representatives sub-committee.
Mr Horn's statement says that his company is taking the action because it should have told the US Environmental Protection Agency about the rigging software.
His submission states that VW will try again later to get certification as it says they are still working with the regulators.
Meanwhile, investigators are still looking at exactly how the emissions-cheating device works. Even a US VW spokesman could not fully explain how the gadget functions.
But he does know that it senses road speed, an engine's performance and other factors related to modifying emissions controls.
Mr Horn is due to appear before the House of Representatives panel on Thursday October 8 but will have to submit his comments in advance.
US VW dealers had hoped to have their 2016 models in their showrooms quickly following last month's revelations.
VW admitted to fitting in-car computer software aimed at fooling government emission testers in almost 500,000 supposedly "clean diesel" vehicles.
Copyright Press Association 2015