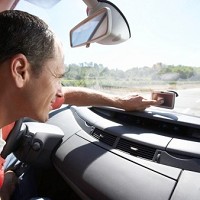 Promising to keep both hands on the wheel goes a long way to keeping you safe on the road.
The new TomTom Via 130 with Speak & Go function responds to voice commands, meaning that more time is spent by drivers concentrating on their driving.
TomTom says that the device recognises over 1,000 instructions so rather than having to pull over to re-type or change a destination address people can simply speak and the satnav will do all the hard work.
Corinne Vigreux, managing director of TomTom, said: "The new Speak & Go feature helps increase focus and concentration by allowing users to keep their hands on the wheel.
"Just say an address, a point of interest or simply 'take me home', and TomTom plans your route straight away. Interacting with your navigation device has never been easier; it slots perfectly into your everyday drive."
Copyright Press Association 2012