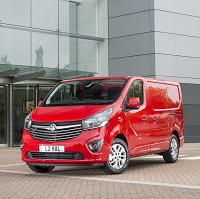 The production of Vauxhall's latest van will create work for 1,200 people for at least 10 years at its Luton plant, the manufacturer has announced.
It is investing £185 million to build the Vivaro in the Bedfordshire factory, the only one in the UK still making vans.
The motor giant expects as many as 70,000 light commercial vehicles (LCVs) to roll off its production lines every year. Half of these will be sold in the UK and the other half will be shipped abroad.
The investment will mean £600 million of business for service firms across Britain, Vauxhall claims.
Its managing director, Tim Tozer, says the Vivaro will be crucial to the firm's success and to the futures of the Luton plant and its workers.
He said the new Vivaro is as comfortable and well-designed as the company's cars but has the practicality, space and load carrying capabilities businesses need.
Vince Cable, the Government's Business Secretary, says the Vivaro is a huge boost to the manufacturing industry and ensures a bright future for workers at the Luton factory.
Vauxhall may introduce a second shift working on the Vivaro at Luton, which would mean even more job opportunities.
Copyright Press Association 2014