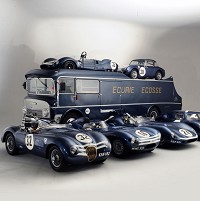 Eight vehicles which won Le Mans 24-hour races in 1956 and 1957 are expected to fetch more than £5 million at a Bonhams auction.
Among the collection from Scottish motor racing outfit Ecurie Ecosse is a restored 1959 double-decker car transporter which became a much-loved 1:48 scale Corgi toy. The real-life version, at least, can carry three cars - one inside and two on top - and has an onboard workshop.
It is in full running order with a Commer TS3 flat-six diesel engine.
The vintage collection will emphasise to enthusiasts the importance of taking out car insurance . Bonhams declined to list individual prices for the vehicles from the 1950s and 1960s, but two of them are sports racing Jaguars, a C-Type from 1953 and a D-Type from 1956.
Other cars in the collection for sale are a 1952 Jaguar XK120 Roadster, a 1959 Tojeiro-Jaguar, a 1960 Cooper T49 Monaco, a 1961 Austin-Healey "Sebring" Sprite and a 1962 Tojeiro-Buick Coupe.
The sale is being held on December 1.
Copyright Press Association 2013