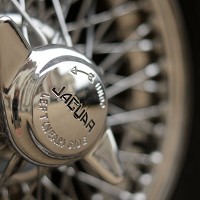 Historic car owners have joined together to target EU bureaucrats who they fear are trying to drive them off the roads.
More than 20 vehicles - collectively worth millions of pounds - took part in the North East's Drive It Day, a national movement showing the population's love for vintage cars and demanding the right to continue using them without what they see as needless restrictions.
Among the cars taking part in the campaign were two Bentleys, an Aston Martin, three Lagondas, a series of MGs, as well as a variety of Morgans, Austins, and Triumphs.
Vehicle values ranged from £20,000 to more than quarter of a million pounds, with one owner claiming he would reject an offer of £1m for his pride and joy.
Jim Merrington, driving a 1935 Singer Le Mans, said: "One always has to be vigilant. It only takes some bureaucrats in Brussels to decide something that affects old cars and puts their appearance on the roads in jeopardy."
The former Scottish and Newcastle brewery director added that o ld cars are "different". Some don't have seatbelts, some have different lights - but that they're all roadworthy and enthusiastically maintained
Copyright Press Association 2014