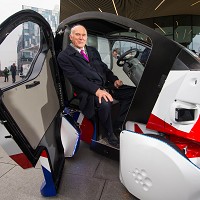 Business Secretary Vince Cable has given his backing to the introduction of driverless cars.
Having enjoyed a ride around the outside of the O2 Arena on a Meridian shuttle with Transport Minister Claire Perry, he claims the autonomous vehicles could improve road safety and ease congestion in the UK.
RAC spokesman Simon Williams echoes the same sentiments but believes the reality is still a long way off.
"This announcement is an important first step along the road to us seeing driverless cars become common place in the UK. But there is a significant way to go and the prospect of driverless vehicles entering service before the end of this decade looks ambitious," he said.
"Motorists will need a lot of reassurance that the technology can be both reliable and safe enough to mean they are comfortable ceding control of a vehicle. This is before we have even started to consider important things like the impact on pedestrians and cyclists, or the implications on the insurance market.
"The Government would do well to produce a green paper or substantial weight of research that explains in detail the benefits to the public of the new technology, and a framework for its phased introduction beyond merely these trials. That way motorists could get a much clearer sense of what a driverless future could look like."
The Meridian shuttle, resembling a giant golf buggy, will take part in driverless vehicle trials in London, Bristol, Coventry and Milton Keynes over the next three years, funded by £19 million of Government money.
Mr Cable and Ms Perry also inspected two other automated vehicles - a BAE Wildcat and a driverless pod - both of which will be used in the trials.
Copyright Press Association 2015