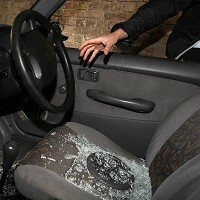 Car crime victims are being urged by some police forces to carry out their own detective work.
That's according to a review by the HM Inspectorate of Constabulary, which found that austerity measures are pushing police forces to scale back their investigations into high-volume offences like car crime.
Call handlers were found to be asking victims questions designed to help police assess how likely it is that they will be able to solve the crime.
If the victims could not answer those queries they were being asked to make inquiries of their own.
They were instructed to ask their neighbours if they had noticed anything suspicious, check any CCTV footage that might have picked up the incident and look at websites where second hand goods are put up for sale to check if their stolen property is being sold.
The Metropolitan Police said its policy is clear that officers will attend all reports of crime and incidents where a victim wants them to.
RAC spokesman Simon Williams said: "It is disturbing to think that not only do we now have fewer traffic police enforcing the law of the road, we now appear to be living in a society where vehicle-related crime is not actively pursued by the police and motorists therefore stand little chance of seeing anyone brought to justice for the damage caused to their vehicle or the theft of their property."
Copyright Press Association 2014