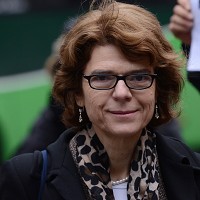 The judge presiding over the retrial of Vicky Pryce has instructed the new jurors to "wipe the slate clean" and ignore anything they had previously read or seen about the case.
Pryce, 60, the ex-wife of former cabinet minister Chris Huhne, denies perverting the course of justice by taking speeding points for him back in 2003.
She has pleaded not guilty using the defence of marital coercion, claiming her former husband coerced her into taking the points.
The jury in her first trial was dismissed after failing to reach an agreement, with the judge citing their "absolutely fundamental deficits in understanding" after jurors presented him with a long list of questions.
Huhne, who resigned as Liberal Democrat MP for Eastleigh after pleading guilty to the offence at the start of February, has been warned he could face a custodial sentence.
The former minister lost his licence anyway that year after being stopped by police for talking on his mobile phone while driving.
Motorists who drive at excess speed not only face losing their licence, but may also invalidate their car insurance.
The new jury in the retrial, comprised of seven men and five women, were told by Mr Justice Sweeney to ignore the negative publicity surrounding the performance of the jury in the first trial.
Copyright Press Association 2013