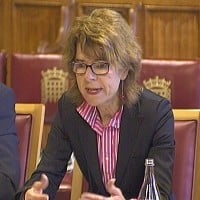 Vicky Pryce has stepped up efforts to piece back together her reputation after being convicted for swapping speeding points with ex-husband Chris Huhne.
The former head of the government economic service appeared in Parliament to give evidence to a House of Lords committee inquiry into the eurozone crisis.
She was released from prison in May after serving two months of an eight-month sentence for perverting the court of justice, although she still has to wear an electronic tag that serves as a reminder of the risks one takes when making an ill-advised bid to avoid penalty points and a car insurance premium hike.
Ms Pryce, who announced on her release that she would publish a book on her experiences titled Prisonomics, chatted with fellow witnesses before her appearance in Parliament.
"I'm feeling just fine, thank you very much," she said when asked how it felt to be back at Westminster.
In contrast, Mr Huhne has kept a much lower profile since leaving jail. He resigned from the Cabinet and as a Liberal Democrat MP after pleading guilty to the same offence.
Copyright Press Association 2013