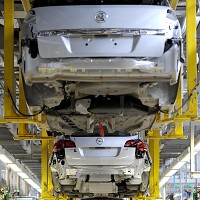 Despite tough conditions this year, the automotive sector can look back on 2012 with a great degree of satisfaction after becoming Europe's second largest new car market.
More than 4,000 vehicles rolled off production lines on a daily basis as there was a 10% surge in cars manufactured compared to last year.
Domestic sales have also increased, with more than 5,500 cars being bought every day.
These increases could also be providing benefits for insurers, with all these motorists scouring the market for the bestcar insurance options available to them.
In Britain, there are more than 700,000 people working in the sector, which has an annual turnover of around £55 billion.
A total of 40 global companies have also chosen to base their operations in the UK, which is a further boost to the country's expertise in this area.
Britain's automotive sector is highly respected across the globe for its flexibility and high quality throughout the engineering and manufacturing processes.
Paul Everitt, SMMT Chief Executive, explained that investment was a key driving force behind Britain out-performing other European markets during 2012.
"While most EU markets have been impacted by eurozone instability, the UK has benefited from £6 billion of new investment from global vehicle manufacturers during the past two years, with car production set to break all-time records in the years ahead," he said.
"At the same time new car buyers have responded positively to the exciting and fuel-efficient new models now on the market helping to boost registrations and make the UK the second largest market in Europe."
Copyright Press Association 2012