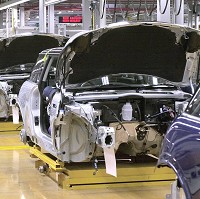 A vehicle rolled off a UK production line every 20 seconds last year, new figures have revealed.
The Society of Motor Manufacturers and Traders (SMMT) said car production rose by 3.1% to more than 1.5 million in 2013 - the highest figure in six years.
As demand for British-built cars surges both in the UK and abroad, experts predict that the yearly two million mark could be reached by 2017 and that the UK will become the third-largest car producer in Europe after Germany and Spain..
Around 80% of cars produced in Britain last year were exported, mainly to China, the United States and Russia.
The car maker producing the most cars last year was Nissan at more than 500,000, followed by Land Rover at 340,000, Toyota at 179,000, Mini at 174,000, Honda at 138,000, Jaguar at 78,000 and Vauxhall at 73,000.
Mike Hawes, SMMT chief executive, said: "2013 demonstrated the value of the UK's diverse car manufacturing industry, as surging home demand and robust exports outside Europe saw output grow 3.1% to over 1.5 million units.
"UK automotive investment announcements exceeded £2.5 billion in 2013, reinforcing industry analysts' suggestions that the UK could break all-time car output records within the next four years."
Business Secretary Vince Cable said: "Today's figures are another sign that the British car industry is going from strength to strength, with one vehicle rolling off a production line somewhere in the UK every 20 seconds.
"Our success lies in the appetite from countries around the world for British cars. Around 80% of the 1.5 million cars we produced last year were exported - a testament to the diverse, high quality of British manufacturing."
Copyright Press Association 2014