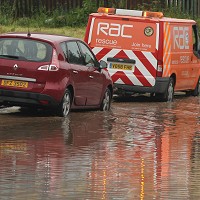 Motor vehicles are reliable most of the time but breakdowns do happen so what should you do if your car lets you down?
Peter Rodger, the chief examiner of the Institute of Advanced Motorists (IAM), says good planning is the key to getting cars fixed and reaching your destination quickly, safely and with as little stress as possible.
He says drivers should always have a reflective jacket, a torch and warm waterproof clothes in their car. It is also important to arrange breakdown cover and keep the number of your provider in your mobile phone or download their app if they have one.
If you don't know exactly where you have broken down, it is useful to have a mobile phone with GPS capability to find this out.
Everyone in a broken-down car should get out through doors on the left-hand side and stand well clear of traffic and behind a safety barrier if possible.
If your car can still move, you can keep going forward slowly until you reach an emergency phone to call for assistance. Those who use their own mobile phone could be asked to give the operator the nearest marker post number. They can be found every 100 metres on roads or every 500 metres on blue signs.
Mr Rodger says drivers should not make repairs themselves when they break down on a motorway hard shoulder but call their breakdown service instead.
He adds that it is important to be patient and safe while waiting for assistance and anyone who feels threatened should sit in the passenger seat of their car, lock the door and phone 999.
Copyright Press Association 2014