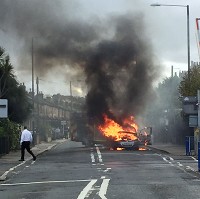 The owner of a Vauxhall Zafira has had a lucky escape after it burst into flames near a level crossing in London.
Firefighters were called to the scene near North Sheen station, in the south-west of the capital, at 1.07pm on Monday.
A London Fire Brigade spokeswoman says crews managed to extinguish the flames by 1.40pm, while thankfully no one was injured in the incident.
Vauxhall recently began writing to 220,000 Zafira B owners telling them to take their cars to local dealers for an inspection of the heating and ventilation system. It follows reports of almost 200 of the models catching fire.
The British manufacturer believes the problem could be down to improper repair of blower motor resistors and their thermal fuse.
While nearly 200 fires have been reported on social media, Denis Chick, Vauxhall's director of communications, admits there is no indication whether all of the vehicles are affected by the same issue.
All inspections will be paid for by the company, which has pledged it will not rest until the situation is resolved.
Copyright Press Association 2015