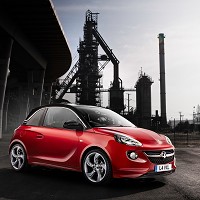 Vauxhall has revealed the first images of its new adaptable ADAM, which could be set to revolutionise the city-car market.
The three-door, four-seater vehicle will be officially unveiled at the Paris Motorshow later this year before hitting forecourts across Britain early next year.
Featuring design ideas often found on luxury cars and using premium materials, the ADAM shares its name with its designer - Briton Mark Adams, who conceived the idea with his team in Europe.
What sets the ADAM apart from other vehicles in its fashion-led A-sector is the fact that buyers can customise the new Vauxhall to mirror aspects of their own personality, as Adams explained.
"No other car in this segment can be individualised as much as ADAM because we are offering virtually unlimited exterior/interior colour, fabric and kit combination choices," said Adams, Vauxhall/Opel's Vice President of Design.
He added: "It's very unlikely that you'll find two identical ADAMs out there."
Despite the ADAMs changeable features, distinctive Vauxhall design signatures have been retained and the new model will be the first in its class to have the option of LED daytime running lights.
Copyright Press Association 2012