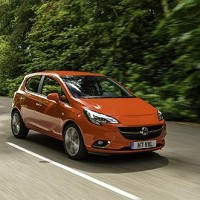 Vauxhall is providing the UK motoring public with a glimpse of its latest Corsa design before it goes into production later this year.
The Fourth-Generation Corsa is as compact on the outside and spacious on the inside as the current Corsa but enhances the model in all other departments, including its efficiency, connectivity and drive-ability.
New body panels make the three-door Corsa more sporty looking and distinguish it from the five-door version the company sees as more exclusive.
Vauxhall's vice president of design Mark Adams has included a blade-like feature across the lower part of the doors as part of his sculptured vision for the model.
Its interior features Vauxhall's new IntelliLink smart multimedia system and a full dashboard and instrument panel redesign.
The new Corsa comes with a choice of powertrains, including the latest 1.0-litre ECOTEC Direct Injection Turbo petrol and the 1.3 CDTi diesel engines.
Vauxhall has gone back to the drawing board with the Corsa chassis to improve on the handling, stability, ride quality and refinement of previous versions of the model that has consistently been one of the best-selling new cars in the UK.
The company's chairman and managing director, Tim Tozer, said he expects the latest Corsa to be a worthy successor to the current model and to continue to excel in the extremely competitive supermini sector of the market.
Copyright Press Association 2014