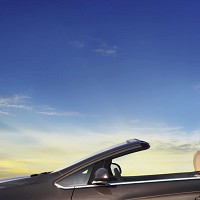 The initial taster pictures of Vauxhall's brand new model, its first completely in-house mid-size convertible since the 1930s, have been revealed.
The manufacturer, which is a subsidiary of General Motors, has released two photographs of the top half of the new Cascada superimposed on top of two different backgrounds.
The convertible's roof seems to be the main focus, with the fabric having been specially chosen for its aesthetic appeal to potential buyers in the particular market sector, as opposed to cost factors influencing the firm.
Drivers of the new model will also not have to worry about pulling over to put the roof up or down as it can be electrically opened and closed while travelling at up to 30mph.
And, after the demise of the Tigra convertible supermini in the recent past, the new canvas-roofed car will take its place in a larger vehicle class.Vauxhall are also proudly pointing out that the Cascada is 7cm longer than an Audi A5 convertible.
The new model will not be appearing at the Paris Motor Show at the end of September as Vauxhall has elected to give the new Adam supermini its moment in the spotlight, but the Cascada is due to go on sale early in 2013.
Copyright Press Association 2012