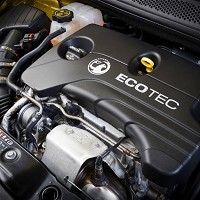 Turbocharged 1.0-litre petrol engines are set to replace the old-fashioned 1.6-litre versions in Vauxhall cars, the manufacturer has announced.
The new engine is due to be unveiled at the Geneva Motor Show in Switzerland next month and will appear first in Vauxhall's Adam supermini.
Although the engines only have three cylinders, a turbocharger equips them with more power than many normal 1.6-litre models.
Vauxhall says the new 1.0-litre engines are capable of giving cars a fuel economy of 62 miles per gallon, while they will also be linked to a new six-speed gearbox that is 30% lighter than its previous version and will further increase the cars' efficiency.
The Vauxhall venture follows Ford's move to put 1.0-litre turbocharged petrol engines with an EcoBoost unit into the Fiesta, Focus and B-Max.
The Adam supermini was launched at the Paris Motor Show in 2012 and went on sale early last year.
Copyright Press Association 2014