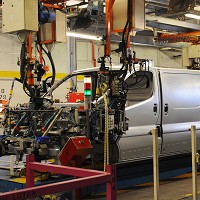 Vauxhall is looking to employ 550 new workers in the UK to help increase output and build its latest Astra model.
The car giant has two plants in the UK at Ellesmere Port in Cheshire, and Luton in Bedfordshire and the influx of extra staff at both sites is the firm's first big recruitment initiative for 10 years.
Its Ellesmere Port factory has two shifts on the go currently, but it needs another 300 workers in the first three months of 2015 to cope with an expected surge in production. It will start building the new Astra at the end of next year and £125 million in funding could see production lasting for another 10 years.
Vauxhall is meanwhile adding a second shift at its Luton facility early next year and will need 250 new employees to man it. The company has invested £185 million in building its new Vivaro van in Luton and wants to increase its production in 2015.
It all amounts to a significant boost for British manufacturing, according to Vauxhall chairman and managing director Tim Tozer. He said the firm needs new personnel to help it build the two exciting vehicles.
Copyright Press Association 2014