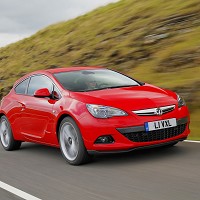 Vauxhall has added a new 1.6-litre turbo petrol engine to the Astra GTC range.
The new 197bhp motor will fit in below the top-of-the-range VXR model and is the same engine that is found in the Cascada cabriolet.
The turbo GTC pushes out an impressive top speed of 143mph as well as a 0-60mph time of 7.3 seconds.
Modifications to the fuel efficiency of the GTC have resulted in a 13% improvement on the previous model, providing fuel consumption of 51mpg and CO2 emissions totalling 154g/km.
The new engine option is available to order now on GTC models, which are priced from £20,995 on-the-road, however the new models are not expected to hit showrooms until the spring.
Vauxhall has also updated the GTC's top-spec entertainment and navigation systems. For an added £855 customers are able to have sat-nav, Bluetooth, voice control and MP3 player connectivity installed through a seven-inch colour touchscreen. Drivers can update the maps feature through the unit's USB port.
Copyright Press Association 2014