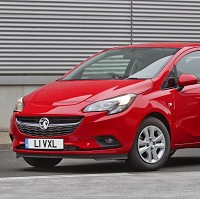 A leading motor manufacturer is looking to improve upon one of its award-winning vans.
Vauxhall-loving motorists looking to honour a New Year's resolution by buying a car or van may be tempted by its all-new Corsavan.
The upgraded model, which debuted at the weekend's Brussels Motor Show, offers compactness without compromising on storage capacity. In fact, its payload has increased by 21kg to 592 kg, while its slender dimensions make it easy to negotiate city traffic.
Its vibrant fresh shell, sturdy chassis and classy inside all improve on an already award-winning precursor.
The 2015 Corsavan, which motorists can buy now, comes with an array of new kit too.
This includes a rear camera, lane departure and forward collision alerts, following gap indicator, road sign recognition and 7-inch (17.8 cm) touchscreen infotainment network, which includes DAB and Bluetooth.
Vauxhall also says that drivers will notice an even more comfortable ride, no matter what line of business they are in.
Offering both diesel and petrol Euro-6-compliant engines, the upgraded Corsavans give economy hitting 83.1mpg as well as CO2 discharges swooping to as little as 90g/km.
Copyright Press Association 2015