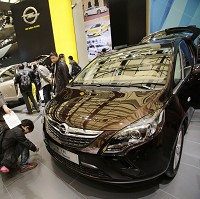 Vauxhall investigators are trying to work out why some of their Zafiras are catching fire.
This follows the launch of an awareness-raising Facebook campaign from three mothers who suffered the experience. They say their pets and children were in the vehicles when they caught light.
The glitch seems to effect Vauxhall Zafira machines made from 2005 to 2012.
The Vauxhall Zafira Car Fires Facebook group has so far got over 5,300 members. Plymouth-based Claire Wheatley, Jade Hellewell, of Preston in Lancs, and Sue Freemantle, of Ivybridge, Devon, are the mothers behind the page.
They got together after finding they had all shared the same experience. The page has unearthed stories of many other Vauxhall owners claiming that their MPV models have also gone up in smoke.
Some owners say the problem occurred within days of buying a car from Vauxhall. Victims report that dense, black smoke appeared through the dashboard into the cabin before the car ignited, gutting the interior.
Ms Freemantle told Auto Express she only started the group because Vauxhall did not listen to her story in the first place.
She says she is "gobsmacked" at the number of fellow Zafira owners who have experienced the same shock.
Ms Freemantle says the aim of the group is more to prevent future fatalities, rather than mount a pressure campaign to extract compensation from the firm.
The car manufacturer is urging owners to contact their Vauxhall showroom in the event of "unusual characteristics" within the ventilation and heating system.
These include squeaking noises coming out of the dashboard. Customers have been promised a free inspection.
Vauxhall's own internal investigation has started with the company pledging to act on the problem. A spokesman says it takes the subject "very seriously" and that it prioritises customer safety.
He adds that the glitch seems to only be affecting a very small percentage of on-road cars. The spokesman attributes some of the fires to earlier repair jobs using various non-genuine parts or being undertaken incorrectly.
Copyright Press Association 2015
%20http:/www.rac.co.uk/buying-a-car/car-reviews/vauxhall/zafira (Vauxhall Zafira)
https://www.facebook.com/groups/424916571025682/ (Facebook group)