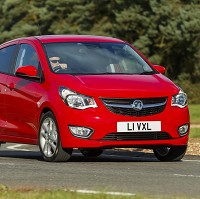 One of the most recognisable cars on the UK roads of the 1960s and 1970s will make a comeback next summer.
Vauxhall made more than 1.5 million Viva superminis from 1963 to 1979 at Cheshire's Ellesmere Port plant. Now Vauxhall fans looking at buying a car with practicality and durability can consider the all new Viva.
It will stand alongside the A-sector ADAM as well as the Corsa super-mini in the firm's small car stable for 2015.
The five-door model will come in four and five-seat options with further choices for equipment levels - including total smartphone connectivity - and trims.
Its latest three-cylinder petrol-powered engine is capable of hitting 74bhp and its wheel spectrum will span from 14 to 16 inches.
Vauxhall managing-director Tim Tozer calls the revived Viva "crisp" and "short" as well as brimming in character.
Mr Tozer, also the firm's chairman, said this new addition to its smaller vehicle range will give Vauxhall a standing that is unparalleled in the sector.
Vauxhall has not yet announced any pricing for the new model, but suggests its affordability will be a major selling point.
Copyright Press Association 2014